As I'm sure you know, there are a lot of different ways to market your chiropractor clinic locally these days.
So what would you say is the best way to attract a steady flow of new patients in 2019?
Patient referrals?
Your local chamber of commerce?
In-house events?
Direct mail?
Billboards?
Search engine marketing?
If you chose "search engine marketing," then you'll want to keep reading our 2020 SEO Checklist for Chiropractors.
The Difference Between Search Engine Marketing & Search Engine Optimization
Search engine optimization or SEO is a process of increasing the amount of website visitors your sites is getting by appearing higher in the results returned by a search engine like Google. SEM is considered internet marketing that increases a site's visibility through organic search engine results and advertising. SEM includes SEO as well as other search marketing tactics.
Firstly, let's focus on SEO. There is no black magic involved in good SEO for chiropractors. Secondly, many marketing agencies try to make it seem more complicated than it actually is so they can charge business owners more than they should.
As we mentioned, SEO is a combination of strategies used to improve where your website shows up in the search engines (we'll focus on Google since it commands 85.82% of all searches online, compared to Yahoo and Bing, who pace far behind with only 6% each).
"93% of online experiences begin with a search engine."
Effective SEO that will improve the position of your website on Google can be separated into two categories: on-page and off-page.
On-page SEO includes factors such as optimized page titles, page descriptions, and engaging content tailored to what your audience is looking for online. 
Off-page SEO refers to actions taken outside of your site to affect your site's trustworthiness and authority. These actions would include inbound link building, social media signals, and online reviews. 
The Goal Of Well-Executed SEO Campaign
The most obvious goal is to have your website show up in the top positions in Google when people search for a chiropractor in your local area.
For a chiropractor website, those terms would include phrases such as "chiropractor place name" or "best chiropractor place name," for instance.
Appearing in the top 3 results for those types of terms is excellent because those search results get 75.1% of all clicks.
SEO can seem quite overwhelming for many small business owners, so we want to give you a simple breakdown of SEO success factors that you can use on your own site to improve your sites visibility online.
If you follow this SEO checklist, you will get ahead of much of your local chiropractor competition and learn the basics of SEO at the same time.
"87% of smartphone owners use a search engine at least once per day."
Tracking Your Websites Search Engine Ranking
Before you can start monitoring your website search engine rankings, you need to spend some time understanding which keywords you want your site to rank for.
One handy tool for this is Ubersuggest. This online tool allows you to enter different keyword terms and see how much search volume they have and see related keyword terms. You can then use a keyword tracking program like https://rankitor.com/ to monitor your page rankings for progress.
It All Starts With Your Website
All good SEO campaigns start with your website. In addition to being optimized for search, chiropractor websites need to be aesthetically pleasing, high converting, and user-friendly.
Your website needs to turn visitors into patients by delivering the information and offers they are seeking in a straightforward, hassle-free manner.
There are many important ingredients that make up an effective chiropractor website, but a few of the more important ones are listed below:
Easy to navigate
Pages load quickly
Mobile friendly
Outlines your services
Has bios and photos of your team
Presents your unique selling proposition
Easy to contact your clinic
Has patient reviews/testimonials
Strong call-to-action links and buttons
If your website is cluttered, not mobile-friendly, difficult to navigate, or simply isn't converting visitors into new patients, then it's time to look at a re-design.
The reality is that your website represents your business and is available 24/7 to attract new patients and serve your current patients, so it needs to easy for people to use and look good, especially on mobile devices.
Technology is always improving, and website design and SEO have changed significantly in the past decade.
If your website is over five years old, it is time to consider giving it an update or building a new website to keep up with today's website design and SEO best practices.
If you are serious about building your online presence, then having a well-designed chiropractor website will help you accomplish your goals.
On-Page SEO
We mentioned on-page SEO earlier, but here is a more detailed look at what it means. 
"Search engines drive 300% more traffic to sites than social media."
On-page SEO is defined as "the practice of optimizing individual web pages to rank higher and earn more relevant traffic in search engines."
​This refers to both the content and HTML source code of the pages on your website. You have the most control over your on-page SEO strategy, which includes these factors:
Keyword/keyword phrases that are relevant to your chiropractor business

Page URL (short, descriptive, includes keywords)

Page title (short, descriptive, starts with primary keyword) – this one is key for your website

Page description (short summary of page, uses keywords, and provides a strong call to action)

Page headings (breaks up the information on the page and includes keywords

Content length (500-1500 words depending on type of web page)

Easy to read content broken into short paragraphs

Keywords used in on-page content

1-2 relevant images (or 1 video) per page

Images and video have alt-tags (image file names contain keywords)

Content is engaging (video, calculators, etc.)

Internal links point to other relevant pages on your site

External links to authoritative sites

Page speed – ensure page content and images load quickly

Mobile-friendly (responsive design)

Use social sharing buttons
It is important to note these on-page factors need to done on each page of your site. We see quite a few clients that do some on-page SEO on their main website page but neglect all their other pages.
This list may seem quite extensive, but addressing these on-page SEO issues on your website will make all the difference and allow your website to get ahead of your competitors.
User Experience
Providing a good user experience (UX) to people who visit your site is more important than ever. And UX definitely has an impact on SEO for dental websites.
User experience (UX) is the overall experience that a person has when they visit your website, especially in terms of how easy or pleasant it is to use. And UX definitely has an impact on SEO rankings for chiropractor websites.
"If your site is slow to load or hard to navigate, then your potential patients will leave before getting to book an appointment with your clinic."
Having a mobile-friendly website is now a crucial part of providing a good UX because nearly 60% of search queries are now made on mobile devices.
Fast loading pages is another important factor in UX. In fact, even a 2-second delay in page loading can cause up to 87% of visitors to abandon a site.
A good SEO agency will be able to both optimize your website for your customers and give them a good user experience and also give Google what they are seeking with good on-page SEO. 
Knowing who your audience is and delivering the content, they would be expecting to see that fully answers their questions is a key part of a good user experience as well.
Website Content
Content is one of the most important factors for chiropractor SEO marketing because Google gives preference to sites with high-quality, optimized content that matches the user 'suser's search intent and rewards businesses that publish content consistently.
Some different forms of content you can have on your chiropractor site include:
Web page content

Blog posts

Video

Infographics

Case studies

Podcasts

Newsletters
Optimizing your page content is very important for good SEO rankings while blogging is an effective way for chiropractors to share their expertise.
Blogging is one of the best ways for dentists to publish content on a consistent basis and boost your Google results.
Blogging allows you to use your targeted keywords frequently, and have users comment on and share your content. You can also incorporate video, infographics, case studies, podcasts, and newsletters into regular blog posts to make them more engaging.
Your blog content shouldn't overtly promote your clinic or its services. Instead, it should focus on addressing common concerns of chiropractor patients and provide value to them, and hopefully, they will share it with their friends and family on social media.
"It's essential to know your audience and what they want and expect from your content."
One good way to frame how you should be creating content is to ask the question, "what do my patients want to know?" instead of "what do I want my patients to know?"
Blogging on a consistent basis can be a major time commitment, so implementing a content calendar to plan out what topics you will be publishing and when is an effective way to stay on top of it.
Off-Page SEO
Off-Page SEO is all of the activities performed away from your website to boost the ranking of a page on the search engines. 
​There are a variety of off-page activities that can improve your rankings with Google. Here are a few of the most common ones for chiropractor clinics:
Link building

Press releases

Expanding local listings

Positive online reviews for your business

Social media marketing
You want to focus on not just building good quality links to your website but trying to get as many relevant links as you can to deliver results.
Here are some good ways to build links to your site:
Business partners and vendors

Local directory sites

National directory sites

Other relevant blogs in your niche (guest posting)

Local online newspaper sites

Online press releases
"The key to your off-page SEO is consistency."
The key to your off-page SEO is consistency. You can't just build one or two links and then call it a day or only focus on it only for a few weeks each year. You need to be consistently building good quality links to your site over a period of months or longer, depending on how competitive your local area is.
You want to think of off-page SEO as a marathon, not a sprint, that will need to be adjusted as you start to see results.
Google My Business
Google My Business should be considered part of your off-page SEO, but it is such a critical part of a good local SEO campaign I wanted to talk about it separately.
After your website, your Google My Business profile is where you should be expending much of your off-page SEO efforts online.
The first thing you need to do with your GMB is to ensure you have fully filled out your profile and verified your business. If you don't fill it out completely, Google gives the option for others- like your competitors -to fill it out for you! Google always rewards businesses who take the time to finish their profiles.
An important aspect of optimizing your GMB listing is to include your products and services. Filling out your chiropractic services will not only tell potential consumers what you offer, but it will also keep them on your profile longer, making Google see your profile as more important than that of your competitors.
"74% of consumers conduct local searches at least once a week."
Your service area is also another area to pay attention to. If people are inside your service area and search for your type of service, Google is more likely to display your listing if you have it set correctly.
For local SEO, the actual distance from your address to where your customers are searching is one of the biggest local ranking factors. You have to keep this in mind, especially if the competition is fierce in your area.
Online Reviews
Garnering reviews on platforms like Yelp, Google, and Facebook should be an essential part of your online marketing campaign these days.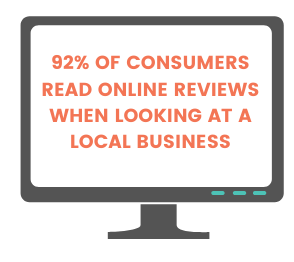 Many prospective chiropractor patients will first look at reviews of local chiropractors before they choose which one to call.
Research shows that positive online reviews are the most important factors for consumers who are considering a purchase, so it is critical that you have a plan in place for encouraging reviews and responding to them.
Take The Time To Respond To Reviews
Google has also recently confirmed that responding to reviews about your business helps improve your local SEO. To manage your online reviews, you should:
Know what people are saying about your business on the leading review sites

Appoint a staff member to respond diplomatically to any negative reviews and thank people for leaving positive reviews.

Have a program in place to encourage customers who have had a positive experience with you to review your business online.
Whether you receive a positive or negative review, it's important to respond to that review in an effort to show your customers and search engines your commitment to customer satisfaction.
"Local businesses have an average of 39 Google reviews."
Online reviews should no longer be seen as a static or one-way flow of information. Brands need to be interacting and engaging with customers in order to create an open channel for communication.
Social Media Marketing
Social media marketing gives your brand the ability to reach your potential patients where they are already spending much of their time.
"Roughly 45% of the world' sworld's population uses social media, with an average of 2 hours and 23 minutes spent per day on social media."
When it comes to social media platforms, not surprisingly, Facebook leads the pack, with an average of 58 minutes spent per day on the platform. Instagram comes a close second at 53 minutes.
Here are some ways social media can impact your organic visibility:
Amplify your content distribution and reach a broader audience

Likes and shares lead to a longer content life

Links to your content from social media can make it quicker to get indexed by search engines

Drives more traffic to your website

Increases your brand recognition in your local market

Helps you understand which types of content prefer and allows you to adjust your content strategy accordingly

Social profiles are likely to appear at the top of search engine results pages for your businesses keywords
Ideally, you are focusing on both SEO and social media marketing in order to maximize your brand' s exposure within your local area.
Focus On The Social Media Channels You Will Use
With so many social sites out there, it can be overwhelming, so focus on the ones that will be the best investment of your time.
​Here are the major social media sites that we recommend you should have a business profile on:
Facebook: 
It has roughly 2.45 billion monthly active users, which makes it the most popular social media platform by far.
Facebook is a great way to reach your targeted consumer audience in your city/region, but you will be trying to capture the attention of people who aren't necessarily looking for your services right at that moment.
Twitter:
With over 313 million monthly active users and a young demographic to boot, Twitter is still a good social media platform to have a presence on for your business.
Starting up a Twitter page for your company is easy. Anyone can come up with a Twitter handle, upload their profile photo, fill out their bio, and send out their first Tweet. What's What's not so simple, however, is growing your Twitter account and turning it into an actual tool that generates leads and builds up your brand.
Growing a real following on Twitter takes more than sending out Tweets whenever your company has a new service or an upcoming event. It 'sIt's about engaging with your target audience and interacting with them.
LinkedIn:
A great tool for professionals, especially chiropractors. There are more than 100 million active users on LinkedIn.
Linkedin is very much a business to business platform, so it's ok for your profile to be strictly business-oriented. Use LinkedIn to post information that is of interest to your peers as well as patients. The goal of content marketing here is to showcase your knowledge and position yourself as an expert in the field. 
Groups are also a fantastic feature of LinkedIn and give professionals a place to meet with like-minded people in their industry. Check out the group's directory on LinkedIn, and use it to join professional chiropractor groups that interest you. 
YouTube:
Online videos are a vital component of social media marketing for chiropractors. According to YouTube's YouTube's statistics page, YouTube has more than 1 billion users, and more than a million businesses are advertising on YouTube, the majority of which are small businesses.
YouTube allows your business to show off both its personality and expertise in the chiropractic services that your clinic offers.
You can create videos that answer the most popular questions and concerns from patients, for instance. Or showcase your patients and their concerns and talk about how you are going to help them feel better using your knowledge and expertise.
This type of content is also great to share on other social media networks and can be posted to your website as well.
Instagram:
When it comes to using photos and videos to market your chiropractor clinic, Instagram can't be beaten.
The hugely popular mobile app allows you to show a more personal side of your practice, connect with the patients locally, and network with industry leaders worldwide. 
It is also a very visual app, so you need to draw people in with an good photo and video content.
Some ideas for content you can post to your Instagram include:
Happy Patients

Giveaways and Contests

Staff Highlights

Patient of the Week

Favorite Pets

Office Events and Parties

Videos (Silly or Serious)

Patient Testimonials

Local Community Events
Conclusion
While there are far more social media sites out there, don't spread yourself too thin, trying to be everywhere. There is only so many hours in the day, so you want to ensure you are sticking with the social media platforms you and your team are actively going to use frequently.
Pay Per Click Marketing
It's no secret that it can take some time for good organic search rankings to be achieved depending on factors like the age of your site and how competitive your local area is. One effective way to bring in targeted traffic while you are waiting is by using Pay Per Click (PPC) marketing.
PPC marketings on Google and Bing targets people at the very moment they're searching for product or services just like yours. They appear at the top (or bottom) of the search engine results page.
"For every $1 spent on Google Adwords, businesses earn an average revenue of $2 (Google)."
PPC doesn't directly affect your organic SEO rankings but is a great way to bring more brand exposure and deliver targeted leads to your chiropractor business.
Ideally you have both PPC ads and good organic listings in place to maximize your brand's exposure in your local area across multiple search results.
Benefits Of PPC
One of the greatest benefits of a PPC ad is getting your business name and unique selling propositions out in front of an audience immediately, from the minute you start your PPC campaign.
Unlike SEO, where you have to wait for the accumulated value to deliver better ranking for your site, PPC ads will start showing immediately.
"64.6% of people click on Google Ads when they are looking to find a chiropractor online."
Another great feature of PPC ads is the ability to geographically target them to match not only what a potential patient searches, but also by city, state, or zip code.
You can write ad copy for your PPC ads that are persuasive (earning you more clicks), but you can also include click to call ad extensions to drive phone appointment inquiries from your ad. That's a powerful tool, especially for patients that might be searching on a mobile phone, which make up 46% of all Google searches.
Other good reasons why PPC advertising is valuable:
You only pay when someone clicks through

You have full control over your budget and costs

You can reach your exact new patient prospects at the right time with the right ad

PPC can show results in a matter of minutes

PPC data can inform your other marketing channels
Summary
​
We've covered the major on-page and off-page SEO activities that can improve your website's position in search rankings. We hope you have found it useful.
​Be sure to download and print our complete SEO Checklist for Chiropractors to below to have a handy reference guide.
We know that keeping up with all these activities to try and improve your chiropractor's website SEO can be overwhelming and very time-consuming.
​If you feel that you are falling short in any of these areas and need help from a professional dental SEO company that understands how to achieve the best results for your dental practice, reach out to us today.